HISTORY
Guarantee of style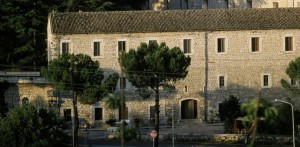 The "Ristorante Abbazia" yesterday…
was born in 1956 within the walls of the Abbey of Casamari. Since 1968 it is managed by the family Panetta. In 1993, the Restaurant is transferred about 900 meters from the Abbey towards Sora.
The "Ristorante Abbazia"  today …
located in the quiet of a hill, surrounded by greenery and the silence of the place is truly an oasis of tranquility for those wishing to combine the taste of good food and the pleasure of all the comforts. The complex consists of two large rooms "Sala Blu" and "Sala Rosa" for receptions of all kinds and a room "Sala Rame" with typical structure with bricks made of clay, wood and copper ceiling and surrounded by large picture windows with views garden and a fireplace. The property is surrounded by large green cedars, a Mediterranean garden and two areas dedicated to the buffet and cocktails, "La Rotonda" with beautiful views of the surrounding hills and mountains and the "Gazebo White" white laminated wood. Ample parking and rooms completely packed.